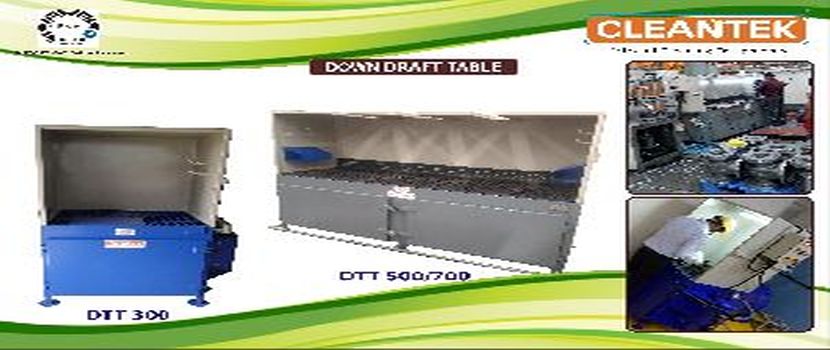 Be it a small cottage industry or a big manufacturing firm, industries are prone to dust in the form of solid, liquid and gaseous state. Accumulation of the dust particles leads to the growth of various health-related issues within the industry and its surrounding areas.
While considering this concern, the majority of industries all over the world consider certain dust collector system to purify the air quality to make the working environment clean and healthy. These systems are used for commercial, industrial and residential purposes.
Most of the products meant for industrial dust collection are designed with a blower, a dust filter, a filter-cleaning, and a dust removal system. Filtration on every table is based on the customer application. Downdraft table dust collector is one the most used device with airflow design for optimal performance.
Features of Downdraft Table Dust Collector
Downdraft tables are modular in design and configured to specifically fit in the application in size, airflow, and filtration.
A wide variety of air filtration options are available for our downdraft tables – pleated panel filters, activated carbon, air filter bags, HEPA, self-cleaning cartridge filters, water filtration, and others.
What They Do
Downdraft tables provide any workstation a built-in ventilation arrangement that is projected for catching and filtering exhausts, smoke, and dust. The air that gets clarified is given back into the environment, which removes energy loss along with the requirement of any other costly in-house exhaust systems.
Effectiveness
Downdraft table dust collectors are extremely effective in controlling dust from buffing, which is caused in any manufacturing place or workstation. Metalworkers can also take advantage of a downdraft table as their work also results in the production of huge amounts of highly toxic dust. These structures are also a need for workplaces dealing with compounds, welding, and plastics.
If you are planning to purchase this system for your company, then consider a few factors while making the final selection:
Consider the size and characteristics of dust particles that the industry encounters.
Determine the degree of dust collection process required within the industry. It can be determined by measuring the location of the firm, the rate of emission of the dust, nature of dust particles, etc.
Be sure whether the air temperature experienced by industry will support the technical feature of the dust collection system.
Consider different disposal methods used in disposing of dry materials, wet materials and so forth.
Why we need a dust collector?
Benefits
Due to the huge variety of types and sizes, one can always find the perfect ventilation that is suitable for your workplace. This ventilation system in it can upsurge both yours and employees' health, as it can limit the contact to the harmful dust particles. Thus it offers you cleaner and unpolluted air to breathe in.


Versatility
A downdraft table is a versatile way to look after employees as it easily meets the safety standards set out by productions. You will be delivered a dependable and nontoxic workstation, in which your workers can safely work.


Installation
Downdraft tables are very stress-free to install and need very little care. These are even environmental friendly. When it comes to selecting, the variety is abundant and you can either buy the entire system or separate materials. Regardless of which you choose you will be installing a filtration system that collects the debris, dust, and destructive chemicals, as well as any hazardous materials that can be harmful if taken in.


Varieties
Downdraft tables come in numerous shapes and designs at the downdraft table dust collector manufacturer. The one you select should be based on the type of material you will be handling and your work environment. Interior tables require good insulation and collect any metal, smoke, or dust that has been leftover from projects.