Pneumatic Conveying System Manufacturers
Posted by Admin on November, 18, 2013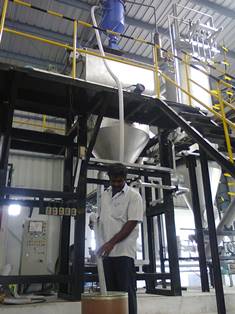 In simple words, Pneumatic Conveying System is a system that conveys bulk materials from one source to many other destinations. The process of injection of materials is basically done using gas flow as the conveying medium. But gas flow is avoided in case of reactive materials and dust explosions. It can be used to convey materials ranging from powders to pellets. However, there are various methods of conveying materials using this system. These two categories are dilute phase and dense phase.
Dilute phase – In the dilute phase, materials are conveyed with the help of airstream velocity. With the airstream velocity, materials are suspended in the air and then conveyed to their locations.
Dense phase- It is characterized by low airstream velocity and is more suitable to convey fragile objects
Benefits of Pneumatic Conveying System
Economical –In terms of installation and operation, Pneumatic Conveying System is a cost effective investment. It is very easy to install and even, it has very low operating costs. And, for cleaning, it is very easy to clean and to handle Pneumatic Conveying System.
Hygienic- As the Pneumatic Conveying System is enclosed; the materials conveyed do not come in contact with other foreign substances. Also, enclosed system is dust proof making it environment friendly.
Flexible –Pneumatic Conveying System is easy to move during relocation and expansion. It also takes less space than the other conventional conveying system.
Are you looking for highly efficient Pneumatic Conveying System?? If yes, then why not buy it from CleanTek. It is a reliable manufacturer and exporter of high technology cleaning products. Some of its offered products are Industry Dust Collector, Industrial Vacuum Cleaner, Centrifugal Blowers, Fume Extractor and much more. It is also counted amongst the leading Regenerative Blower Exporters. To know more details about it, log on to https://www.cleantekindia.com/product-category/vacuum-conveying-system/
This entry was posted on November, 18, 2013 at 12 : 17 pm and is filed under Pneumatic Conveying. You can follow any responses to this entry through the RSS 2.0 feed. You can leave a response from your own site.