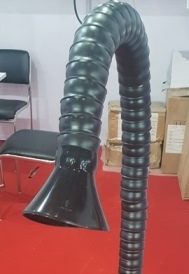 Cleantek Soldering Fume Extraction System is designed and installed for centralized multi point extraction system in soldering stations, it is considered as one of the premium equipment available in the market to remove hazardous solder fumes form the work area. This system contains a fan, electrostatic filter, power pack control panel, higher static remote mechanism, pre-filter, HEPA filter and chemical media, Multi-Flex Arm, fume hood, solder fume extractors, heavens purifiers and exhaust hoods. These exhausts are considered potentially harmful and may create health problems including headaches, skin allergies and eye irritation.
Key Features
Extremely well-organized fan
Entirely adaptable stand
ESD safe constructions for working with sensitive electronic equipment.
Protects the industrial health and safety of operators and low management costs
Bendable to more or less any working point of view.
Rapid filter replacement and interior security grills
Soldering system is secure, portable & noiseless
Consuming power 100 ? 240 VAC
Increased productivity safe and environmental friendly.